Active Life Chiropractic & Wellness Reviews
What others say about chiropractic care can help you make the right health care choice. Review a selection our testimonials below or if you've had an experience at Active Life Chiropractic & Wellness that you would like to share, click here to share your story.
Please email or contact the office if you have any questions.




If it wasn't for Dr. Hanopole, I wouldn't be able to lift my neck up. From a year ago to now, it's like night and day! Melissa
---
Went in with a pain in my back that kept me up for weeks, and after one visit it alleviated so much of the pain!!

Relaxing environment, helpful and friendly staff, amazing work from the chiropractors. I will recommend to others that this is an exceptional business, more like a family ☺

Dr. Mike is very thorough in his questions and explanations of treatment. In just one appointment I felt some relief from my headache. I am very eager to know what regular maintenance here can achieve. I am excited to start this new journey with this office and appreciate them.

Active Life Chiropractic & Wellness chiropractors are first class, very professional, friendly staff, make you feel like family.

Went to the Chiropractor today, finally, Active Life Chiropractic in Plantation and it went phenomenally. I am in no pain and I can walk right and turn my neck. Dr. Michael Rubenstein fixed me up. I highly recommend them.

Went to the Chiropractor today finally, Active Life Chiropractic in Plantation and it went phenomenally. I am in no pain and I can walk right and turn my neck, Dr. Michael Rubenstein fixed me up, I highly recommend them.

They have the best equipment in their office to date.. really helpful and extra friendly with the patients from the doctors to the front desk.. highly recommended

I just wanted you to know I appreciate EVERYTHING you and your staff have helped me with. I would highly recommend you to my friends. Thank you so much!

They know what they are doing, Pain relief professionals.

Great experience. Very knowledgeable staff.

The Doctors and staff were amazing. From the moment I arrived I felt like they honestly cared for my well being and were focused on helping me reach my goals. Excellent office and would highly recommend.

The best chiropractic in town!

Great service and wonderful staff . Dr. Hanopole is the best.

I was handled with real care by Dr. Mike and staff. Will be glad to refer friends and family.

You receive "personal" care and you feel the staff and especially the doctor are truly concerned about alleviating the pain that caused you to seek chiropractic care.

Very good staff, attentive and friendly. Would recommend anyone to visit here.

Very impressed with the sincere strive to improve my condition. I came into office, very scared, in pain. Very glad I went and received, very professional service. What a different it has made! I'm feeling so much better! So glad that I went. I will tell all my friends and family, Dr Micheal Rubenstein , I can not thank you enough!

I will certainly return for maintenance and critical care as I have every confidence in Dr. Hanopole.

Love the office, the staff, the doctors all very professional and caring. The office is very clean.

Friendly, helpful, and kind. My accident was traumatic and your staff made me feel valued and I felt I could trust again.

The whole experience was awesome.
---

---
Better Quality of Health Overall*
Dr. Hanopole and his staff were helpful and welcoming; it is clear to see that everyone there really cares about the happiness and wellbeing of their patients. After seeing half a dozen different chyropractors in the past ten years this is the first time that I have been to someone who discussed addressing the source of the problem causing me constant pain, neverless that there was a problem to be addressed in the first place, and not just treating the symptoms with little to no interest in long term resolution. I am very confident that not only will my issues be resolved by the end of my treatment plan, and continue to stay that way with regular maintenance, but that I will gain a better quality of health overall.
– Kimberly F.
---
Surprised and Impressed!*
I was pleasantly surprised and impressed. I felt welcome from the moment I walked in the office. Dr. Hanopole listened to me, interacted with me, explained how the laser worked, he addressed my back and feet issues, and I feel confident that he will help me heal. Rhai and Priscilla were very professional and made me feel like a long patient. My goal is to become active again like I was before and I finally feel like this will be possible.
– Karen M.
---
Outstanding service!*
I had an appointment with Dr. Hanopole and I must say the service was outstanding!! The staff was friendly and very pleasant. The service was superb…. I had never experienced such outstanding service and state of the art equipment before. Thank you very much for your service!!!!
– Troy W.
---

---
Thank you for helping me heal!*
When I went to Dr. Hanopole at Active Life Chiropractic, I had severe pain in my knees. I was previously advised by doctors that I would need a knee surgery to correct my condition. Fortunately, Dr. Hanopole was confident that his laser therapy would help so I gave it a try. When I came to him, I was using a crutch and soon afterwards went down to a cane. Finally, I was able to walk with no assistance as a result of his laser therapy; I feel great. Excellent job, Dr Hanopole.
– Adelaid H.
---
Dr. Hanopole and MUA have changed my life*
I'm now free of migraines, neck and upper back pain and for the first time in 13 years!!! Two years ago I had come to accept that migraines and back pain would just be a part of my life. I had become used to taking 3-9 pills a day, 6 different prescriptions plus Botox in my head, neck and upper back and I was only 22 years old!!!
read more»
After seeing Dr. Hanopole for a few months, my migraine frequency decreased from daily to less than once per month and my neck pain was significantly reduced. Dr. Hanopole recommended MUA to alleviate the remaining chronic neck and upper back pain caused from a herniated disc. I was a little hesitant to be put under anesthesia, but after reassurance from my brother who is studying anesthesiology and trust in Dr. Hanopole, I underwent the procedure. I never imagined that it would be possible to be without any pain; but today I am. I haven't had a migraine since the procedure, and my neck and back pain are gone even through an extremely stressful first rotation as a Physician Assistant student.
Due to the amazing results that I have experienced, I would without a doubt, recommend the procedure to anyone suffering from chronic pain. I hope that many others will experience this wonderful gift that Dr. Hanopole bestowed upon me. There's nothing that compares to taking away excruciating pain suffered consistently for over 13 years. Dr. Hanopole's exceptional care and professional abilities have made a life without pain and drugs a reality for me. I will forever be grateful.
– Stephanie B.
---
Greatly Improved my Health*
This letter is to thank you for your gift of chiropractic. In September 2006, I approached you with the following symptoms of burning thigh syndrome (meralgia paraesthesia); frequent headaches often of migraine intensity which at times were affecting my ability to perform my job, neck pain and dizziness.
I had endured the first three ailments since 1996; the first had gradually worsened over the years until I could not stand for more than 20 minutes without a severe burning pain starting in my left thigh. Two conventional physicians had advised me nothing could be done for this condition. You took a set of x-rays and showed me lower back vertebra that were twisted and obviously off center. You expressed the professional opinion that all of the above symptoms were amendable to chiropractic.
read more»
Treatment began in September, two days per week. By the end of December I could stand and walk for up to four hours without experiencing discomfort in my thigh. The intensity and frequency of my headaches and dizziness have noticeably decreased.
On Friday, January 5, 2007, I arrived for my adjustment weak and ill (symptoms similar to the flu) and by Saturday morning, just 36 hours after the onset of the disease, I was back to normal.
Following the neck adjustment you gave me on January 12, 2007, for 3 days I found it possible to breathe freely all day long through my left nostril, this was the first time in almost 20 years.
You have greatly improved my health over just a four month period. Compared to the condition in which I first approached you, my health now seems much better. You provide care with constant improvement.
Thanks again for your contribution to my life and well being.
– Michael P.

Active Life Chiropractic & Wellness | (954) 423-0020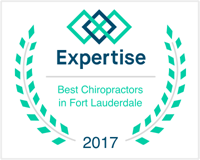 *these statements are individual outcomes, your results may vary