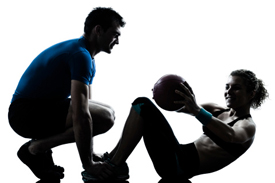 I've been into exercising my entire life, knowing that it's key to emotional and physical well being and true health. What is health, anyways? It's a state of optimal physical, emotional, and social well-being.
A couple of years ago, I found CrossFit, which is a high-intensity form of interval training that involves all three aspects of well-being, giving true health to its participants.
Helping Each Other
CrossFit is truly such a social experience. There's lots of camaraderie and teamwork in a CrossFit gym, where you feel accountable to your peers and develop close relationships with them. You're encouraged to push yourself to be your best, and everyone beside you is doing the same. You'll find a lot of driven, determined people in a CrossFit gym who will bring so many benefits to your life.
What about Injury?
I always recommend CrossFit to my patients because it's made such positive changes in my life. A lot of times, I get the response, "don't you get injured with that kind of training?" The key to CrossFit is to know your limits, and scale or modify accordingly. There are always other options if a certain workout isn't for you, or ways to change it to suit your needs. In fact, I recently read a story about a man with chronic knee problems who found a solution to his pain through CrossFit, so it can even help your chronic injuries!
Try it For Yourself
You will find that CrossFit changes your life for the better. It's a form of therapy in itself! A CrossFit workout can take as little as 7 minutes a day, and will leave you feeling tired and satisfied. You'll be enveloped in an entirely different culture of like-minded people who continually challenge each other to succeed, and you'll see the changes you desire in your body in the process.
Dr. Hanopole has partnered with Liv Up Crossfit to offer monthly on-site Injury & Performance Assessments and Chiropractic Adjustments. Check it out today!