What to Expect
Are you ready to leave your pain in the past and discover thorough healing? Let's get started!
Acute Injuries may take an average of six to eight treatments and chronic injuries can take twelve or more treatments. After four visits, we'll evaluate your results and readjust the treatment schedule as necessary.
When you arrive, we'll ensure your paperwork is complete before you meet with Dr. Hanopole for a consultation. He'll do an examination of the area of your complaint to determine if you're a good candidate for high power deep tissue laser therapy.
When receiving high power deep tissue laser therapy, you'll feel a gentle warm sensation and possibly a mild tingling. With no known side effects, you can leave here focused on enjoying your life.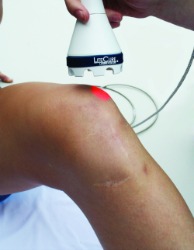 Quick, Efficient Care
We value your time and run our office as smoothly as possible. We'll make your visits as efficient as possible and try to keep them under 15 minutes.
Is high power deep tissue laser right for you?
We'll talk and examine your injury to see if laser therapy could help you.
Give it a try and experience results so many of our patients already have!
Call to schedule your appointment today!

Laser Pain Relief Plantation, FL | Active Life Laser Pain Center