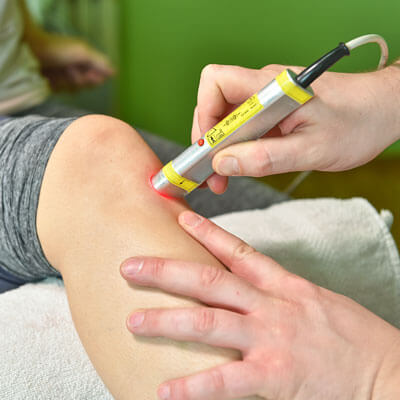 When it comes to musculoskeletal and neuromusculoskeletal injuries, people don't realize they have more options than traditional drugs or surgery. What we offer at Active Life Chiropractic & Wellness with laser therapy is a highly effective alternative to drugs and surgery. We like to say "ditch the drugs and skip the scalpel."
Our overarching purpose and mission is to help our patients avoid invasive, costly, and risky procedures. Which is what laser therapy does. At our office, we use Class IV high powered deep tissue lasers.
Most people think of lasers as instruments that cut, cauterize or destroy tissue, but we use lasers that heal tissue. Here are some conditions we can address using laser therapy:
Diabetic ulcers
Foot pain
Hip pain
Knee pain
Plantar fasciitis
Shoulder pain
Sciatica
Getting Incredible Results
For Dr. Hanopole, laser therapy has rejuvenated him as a practitioner. "I've been at the practice for 27 years, and over the past 5-10 years of using the high powered laser, I've seen the best results I've ever witnessed in the practice," he said.
How Does It Work?
Although our lasers are surgically powered, we're not performing surgery. The lens and the handpiece spread the laser, so all that is entering the body is light energy. We use specific wavelengths of light (810 nanometers and 980 nanometers) that are bio-stimulated, which means they stimulate the healing process.
Patient Success Stories
Diabetic Ulcers
One of our "miracle" patients was a woman who first came to our office with tears running down her face. She was told she had to have two of her toes amputated due to diabetic ulcers. Dr. Hanopole let her know that laser therapy may not help, but she could give it a try. She agreed, and after the first visit, the patient came in two days later.
Both Dr. Hanopole and the patient remarked the ulcers looked a little different and appeared a bit shiny. It looked like something was happening with the tissue, so the patient continued the treatment plan. In about 7-8 more visits, her ulcers completely healed, so no amputation was needed.
Hip Pain
A patient drove three hours each way to our office, because three orthopedic surgeons told him his hip required surgery. Once we were done with his round of laser treatment, he was able to avoid the surgery.
Shoulder Pain
A patient was scheduled for surgery, as she had so much degeneration and derangement in her shoulder and couldn't even reach over to her night table. Her daily activities were greatly diminished. After a round of laser treatment, she was able to move her shoulder so much better and could reach over to her night table.
Could you be our next success story? Find out more about laser therapy at Active Life Chiropractic & Wellness and book an appointment today!