Sexual Performance & Maintenance
with GAINSWave®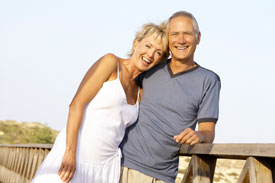 Did you know that more than 50% of men experience some form of erectile dysfunction at some point during their lifetime? If you're over the age of 30 and feel like you aren't performing as well sexually as you used to, there are non-invasive options to help improve your confidence and performance that go beyond prescription medication.
We offer a breakthrough, non-invasive technology to improve your performance and confidence that is a much better choice than "the little blue pill".
At Active Life Anti-Aging and Regenerative Medicine, we're proud to offer men this scientifically proven therapy called GAINSWave. Here's how it works.
What is GAINSWave Therapy?
Low Intensity Extracorporeal Shockwave Therapy, commercially known as GAINSWave, uses high frequency acoustical waves that are gently applied to the male genitals. This process breaks up the micro-plaque in existing blood vessels and stimulates the growth of new blood vessels. The resulting improved blood flow helps any man, not only those with ED, to obtain stronger and more sustainable erections.
A typical protocol is 6-12 treatments depending upon the severity of the condition with the results lasting up to 2 years or longer. After this period, occasional follow up treatment may be recommended to maintain the great results.
The Benefits of GAINSWave treatment include:
Enhanced Erections/"Erections on Demand"
Improved Sexual Performance & Stamina
Heightened Erection Quality & Sensation to the Penis
Better Orgasms with Less Recovery Time Between Orgasms
Completely Non-Invasive
No Side Effects
The best part about treatment? There is little to no downtime following a session, and most men are able to return to their regular daily activities right away.
Discover if GAINSWave is Right For You
If you'd like to learn more about how GAINSWave therapy can greatly improve your sex life and confidence, contact our practice today to get started.
CLICK HERE TO REQUEST AN APPOINTMENT


A Breakthrough Solution for Men Seeking Better
Erections & Optimal Sexual Performance
Serving patients in Plantation, Davie, Weston, Broward County, Sunrise, & Wilton Manors
at Active Life Anti-Aging and Regenerative Medicine.