The Plantar Fasciitis ReliefNowTM Laser Method©
Effective Plantar Fasciitis Treatment Without Dangerous Side Effects
Call (954) 423-0020 Now For Your Free Consultation
At Active Life Laser Pain Center we understand that your plantar fasciitis is very painful and makes it difficult to just walk or attempt any athletic endeavors. The strong pain and inflammation can make your daily activities debilitating!
Our specific two step protocol utilizing the most modern technology available can provide the solution you are looking for.
Thank God no more pain. Instead of tears, I smile from ear to ear. Thank you!

Marcia W.
Your consultation is free.
What are you waiting for? Call (954) 423-0020 to get started right now!

Watch Success Stories from
Our High-Power Deep Tissue Laser Therapy Patients

Highly-Effective Drug, Surgery Alternative
Putting too much pressure on long aspects of the joint to the bone and stretching ligaments that shouldn't be stretched can cause the body to lay down more calcium in the ligaments and result in foot pain. We will address this issue to get you out of plantar fasciitis pain and back to your active lifestyle as quick as possible!
Visit Dr. Robert Hanopole and his associates right away for a free consultation & evaluation to determine if you are a candidate for our Plantar Fasciitis RelliefNow Laser MethodTM.
Our Gentle, Pain-Free Plantar Fasciitis Treatment Protocol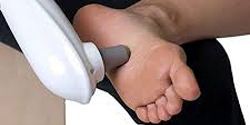 Step 1: Soothing Myofascial Therapy
We'll start out with procedures to help release painful muscular tension, trigger points and adhesions that are usually present with plantar fasciitis.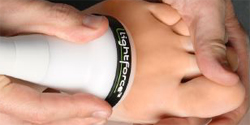 Step 2: Gentle High-Power Deep Tissue Laser Therapy
Our FDA-cleared laser will painlessly address your plantar fasciitis by reducing the pain, swelling, and inflammation while stimulating the cells to repair injured tissues.
Give us a call and get plantar fasciitis relief now! (954) 423-0020

TESTIMONIALS
I'm so glad because this laser therapy help me a lot in my daily activities, excellent and professional crew.

A much better alternative to surgery, the laser treatments are bringing relief! Thanks so much!

This is a very well run office. The front desk staff is accommodating and very sweet. Dr. Hanopole helped me to feel confident that he could help me. And he has. I wish I would have been there 20 years ago.

I am speechless and just keep thinking what happened to all the pain I was feeling?  Is this a miracle? Thanks to Active Life.

Thank you Dr. Hanopole for keeping this body of mine going in the fast lane, your care coupled with an excellent staff and progressive therapies have created a world class wellness center.

I was in a terrible car accident in 2018 which caused me to have a back injury. I have done 3+ years of physical therapy, multiple steroid shots, chiropractic adjustments but nothing helped me at all. The injury I sustained also made me unfit to continue my active duty military service. I am currently on my fourth session of laser treatment and can honestly say I feel great. I never thought I would be active again. The office is welcoming and uses active communication to explain everything. Thank you Dr. Hanopole for helping me take another step towards my physical goals and most importantly my mental goals. Bless.

Have been in a Florida only 6 months and the customer service has been the best I have experience in Florida. I'm so happy I found you! Dr. Hanopole is amazing and his staff is a perfect match.

The reception and Dr. Hanopole were both superb and educated in catering to the individual patient's need and on the road to a full recovery.

Laser Pain Relief Plantation, FL
Active Life Laser Pain Center



THE PATIENT AND ANY OTHER PERSON RESPONSIBLE FOR PAYMENT HAS A RIGHT TO REFUSE TO PAY, CANCEL PAYMENT, OR BE REIMBURSED FOR PAYMENT FOR ANY OTHER SERVICE, EXAMINATION, OR TREATMENT THAT IS PERFORMED AS A RESULT OF AND WITHIN 72 HOURS OF RESPONDING TO THE ADVERTISEMENT FOR THE FREE, DISCOUNTED FEE, OR REDUCED FEE SERVICE, EXAMINATION, OR TREATMENT.